By Corinne Kronschnabel and Christopher D. Cantwell
Ed. Note: One of the most exciting and challenging aspects of building the ARSP website was agreeing on the metadata categories we would use to "tag" recordings of religious sound. Metadata offers a powerful tool for classifying and comparing the materials in our archive, yet it also reduces the complexity of lived experience to overly uniform and simplistic categories. The ARSP staff spent several long hours debating how specific we should be when labeling religious traditions, what kinds of sound and place types we should include, and to what extent we should involve communities themselves in our process. As we did so, we discovered that constructing a useful metadata system implicated fundamental questions in the study of religion.

For this blog post, we invited two of our collaborators at the University of Wisconsin-Milwaukee to share some reflections on metadata and the academic study of religion. They arrived at their insights through their wonderful work on Gathering Places, a project charting the history and current activities of Milwaukee's religious communities. In their post, they raise a number of important questions that we confronted in our work as well. We did not always arrive at the same answers, but we share their conviction that these are worthwhile conversations for religion scholars to be having. In fact, it may be that the conversations themselves are more valuable than any particular outputs. To learn more about our approach to metadata on the ARSP website, please visit our FAQ page and Glossary.
Religion is a complex and sometimes messy topic that shapes both individual lives and broader communities. The metadata we use to tag and organize information, however, requires simplicity, clarity, and uniformity. How can these two things that appear to function in different capacities work together?
At the University of Wisconsin-Milwaukee, a team of researchers just went through an exercise that thinks through the ways in which metadata can contribute to the study of religion. The project, called Gathering Places: Religion and Community in Milwaukee, charts the history and current activities of Milwaukee's religious communities. The project is also a partner of the American Religious Sounds Projects, contributing its recordings to the ARSP. Last year, UWM senior Corinne Kronschnabel and Prof. Chris Cantwell went through the project's nearly one hundred items and built a metadata schema that was clear while at the same time acknowledging the religion's complexity. The schema we developed ended up creating a number of categories that helped us think through just what the category of religion is.
Some of the metadata categories were relatively straight forward. We developed "Item Specific" subject tags for every contribution to the site, identifying whether they are a photograph, document, oral history, or sound recording. We also developed "Subject Specific" tags that then conveyed whether a specific document was a sermon, flier, diary entry, or artwork. Finally, we also developed categories for an item's "Location," naming what Milwaukee neighborhood or neighboring town the item came from.
Our religion specific categories categorization also started out somewhat simply, by tagging the "Religious Tradition" of each item as Christianity, Judaism, Buddhism, etc. We also created categories for a Gathering Places' official name (such as Kenwood United Methodist Church) and denominational affiliation (United Methodist Church)--if it had one.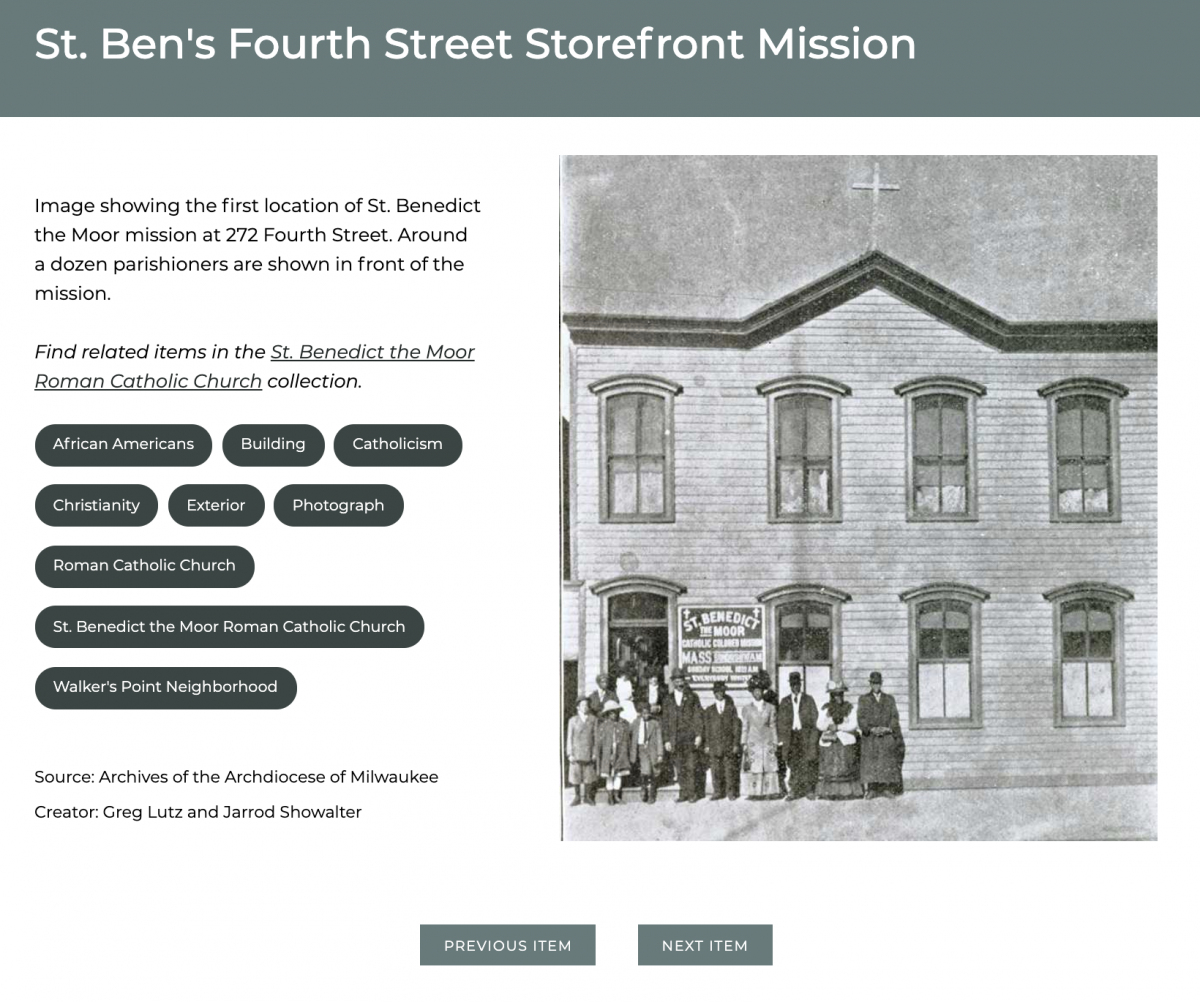 But trouble began to emerge as soon as we bore down into the specifics of these broad themes. A Gathering Place identified as "Christian," for instance could--and probably should--also be identified as Protestant or Catholic. It could also be tagged as evangelical, mainline, conservative, liberal, or a host of other descriptive terms that convey how religion is perceived in a given historical context. To convey this complexity, we created a broad category that we for now call "Theological Tradition." We have reservations about this term as it suggests that religion is only about belief, and if readers have suggestions to replace it, we welcome them. But whatever this category is ultimately called, it allows us to convey specific information about an item associated with a specific gathering place by noting that in addition to being "Roman Catholic", for instance, St. Benedict the Moor Catholic Church was also a "National," or ethnic parish created for the "African-American" community.
What's more, beyond these helpful categories, our work in creating a metadata schema for Gathering Places also helped us arrive at a statement of principles when assigning subject tags. The first is to let the self-identity of a particular community lead. For example, in the first round of tagging we assigned St. Paul's Episcopal Church an "Evangelical Protestantism" tag based on what we knew about its history. But members of the community reported to us that the church now more closely identifies as a more liberal, mainline congregation, so we updated our tags to reflect this fact. Our second lesson was to let the "Subject Specific" tags do some of the work of interpretation. If a document from a gathering place discusses the social gospel, for instance, we can tag it with a "Social Gospel" tag without making presumptions about the conservative or liberal leanings of the community as a whole.
The interaction of metadata standards and the Gathering Places project seeks to situate religious information within their global, theological, and social contexts. This project can set an example for future religious projects that seek to assign metadata to collections or databases that connect to the study of religion. For those interested in learning more about the work of the Gathering Places project, Corinne gave a presentation at UWM's undergraduate research symposium on their work on the project. You can view Corrinne's presentation here.