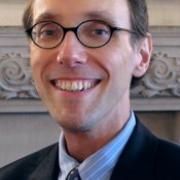 As we begin the home stretch of our project, it seems an apt time to remember Leonard Primiano (1957 – 2021). Leonard was one of our interpretive scholarship grantees, a much-loved instructor, and a leading scholar of religious studies and folklore. He was also an absolute delight to work with. His unfailing enthusiasm for his work was infectious, and his customary "peace" email sign off gave even fairly mundane subjects like travel arrangements and accounting a more cheerful tone.
Snowy Peace, Leonard
Although our work with Leonard was brief, we also wanted to share some of the memories from those who'd had the privilege of working with and learning from him more extensively. His colleagues at Cabrini University hosted a celebration of Dr. Primiano's life and work in September. Marion Bowman penned an obituary of Leonard for the November 2021 issue of the British Association for the Study Of Religions Bulletin. And, perhaps most appropriately, The Loquitur, Cabrini's student newspaper, offered this memory of "Dr. P." Their words speak more eloquently than ours could.
The Folk Belief and Religion Section of the American Folklore Society has established a fund in Leonard's memory to support the work of other scholars in the field.